Friction Drive Info
Product ID : 3707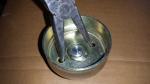 Product ID : 3717
Friction Drive Info

Call Us @ 405-605-3765
Email: Sales@Staton-Inc.com
Staton Inc. (since 1984) manufactures the best fiction drive kit money can buy. While this may sound like just some marketing guy's hype, we back it up with actual real world performance. Unlike the vast majority of 'we make the best,' bogus claims - Staton Inc. can demonstrate our manufacturing, engineering and design superiority with actual customer testimonials.
Note: For mounting pictures and pricing look under "Shop", then go to the Friction Drive kits page. Click on the any of those pages to see more close up details of how to mount the kit. All engines mount the same regardless of engine brand or size.
Here are some reasons why Staton Inc .manufactures the best friction drive kits:
Our engine mount is ¼ inch thick Aluminum Extrusion and cnc machined in house for additional accuracy and durability.
We use two high speed double sealed ball bearings – one for each side of the drive roller adding additional support. This takes all the pressure off the engine crank.
We cnc machine all our drive rollers for additional accuracy and durability.
All our drive rollers are heat treated to ensure hardness and additional strength.
Every drive roller we manufacture is zinc plated to protect from rust and premature oxidation.
We manufacture our drive rollers in 6 different sizes:
7/8" or .875 inch, 1.0 inch, 1-1/8" or 1.125 inch, 1-1/4" or 1.25 inch, 1-3/8" or 1.375" and a 1-1/2" or 1.50 inch OD. This offers our customers the ability to fit our kits to accommodate every engine and virtually every rider regardless of size or riding conditions. The larger the drive roller the faster your top speed, but you have less power to take off, climb hills and buck the wind.
All our friction kits come complete with everything you will need to mount our kit your vehicle. Each Staton Inc. friction drive kit contains all the parts, dual supports, hardware and complete mounting instructions; as well as some 2 stroke oil if required.
Our friction drive kits are simple to install. Most customers using standard tools can install one of our kits in less than half an hour.
The Staton Inc. friction drive kits offer the rider versatility. You can pedal and use the engine simultaneously – if need be.
All our friction drive kits are upgradeable to a larger engine displacement size and all have a centrifugal clutch. Easy pull start.
All friction drive kits require that you use a "smooth or street" style of tire so the drive roller makes good contact with the tire. A Knobby tread tire will not work very well with friction drive kits.
Front mount kits are for mostly used on trikes. If you have a trike be sure and check out the gear and chain drive kits as they mount on the rear of the trike, under the basket and drive with a chain.
If you are the type of individual who is concerned about quality, durability, reliability, and owning the industry's best available friction drive kit then the Staton Inc. friction drive kit was made for you.
"Staton-Inc since1984 motorized bicycles without equal."